Tonight's show opens with a brief recap of Undertaker's thorough beatdown of Paul Bearer last week in the Hell in a Cell. Tonight, Bearer will watch from his home and comment via satellite. More interesting, however, Michael Cole says tonight Kane will break his silence and talk. Can he even talk? We'll see!

We're in Austin, Tx., tonight, the Hell in a Cell is still hanging over the ring for some reason and Jim Ross and Cole are our announcers to kick things off. Vince McMahon makes his way to the ring to some loud boos from the crowd. He introduces "the next World Wrestling Federation champion" Kane.

JR says Kane hasn't spoke in 20 years. Will he break his silence right now? Oh, here's Bearer chilling at home.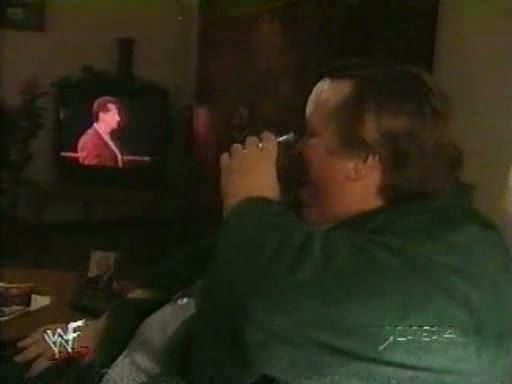 McMahon: "This Sunday, Kane, when you face Stone Cold Ste ve Austin for the WWF championship, this Kane will be the greatest day of your life. Gone, gone forever, will be all those days of torment, a childhood that was nothing short of a living hell. The excess baggage you carried with you into manhood, the excess baggage of rejection, of ridicule, or scorn and of abuse. Those days, Kane, will be gone, gone forever, because this Sunday you'll take your place in that rarified air. You'll take your place, those few great people who've overcome all odds to become a champion. This Sunday, Kane, when you become the WWF champion, this Kane is your destiny. No force on earth can stop destiny. No man can stop destiny, not even Stone Cold Steve Austin. And, Austin, as Kane stands before you here tonight, he dedicates this title match to his father Paul Bearer, and furthermore, Austin, challenges you like you've never been challenged in your life, Austin. Because Kane, this Sunday challenges you, Austin, to a match that's never been held before here in the World Wrestling Federation. No, never in history. A match in which there's no such thing as a pinfall, there's no such thing as a submission. As far as a countout is concerned, that doesn't exist either. A disqualification won't even count. No, Kane challenges you, Austin, to a match in which clearly the winner will be the man who draws first blood on his opponent. That's right, Austin, a first blood match. And, Austin, how confident are you [a loud "Austin" chant starts] yeah, that's alright. Well then, how confident is Stone Cold Steve Austin that's he's gonna retain his WWF championship, huh, how confident is Austin? I'll tell you how confident Kane is. Kane is so confident that he will offer in writing a special provision in the contract that states the following. Kane, if you would speak publicly for the first time, what does the contract further state?"
Kane sticks something, presumably a voice box, up to his throat and speaks like a robot.
Kane: "If I do not win the title, I will set myself on fire."
What the fuck?
McMahon: "So confident is Kane that if he does not become the World Wrestling Federation champion this Sunday, he will set himself on fire and breath his last breathe."
From home, Bearer is not happy about this. JR says it looks like Bearer is hearing this news for the first time.


Coming up tonight, we'll get the first round matchups of the King of the Ring tournament, giving us a final four to take place at this Sunday's Pay-Per-View.


Ken Shamrock vs. Mark Henry (King of the Ring quarterfinal match)

The Nation of Domination walks out with Henry and once again a bunch of referees tell them to leave. That's happened literally every King of the Ring match one of these guys has been in. Also, Henry, Owen Hart, Rock and Kama Mustafa were all in the tournament, so that should tell you something.

It's the world's strongest man (Henry) vs. the world's most dangerous man (Shamrock), so something's gotta give, JR says. Early on, it's the world's strongest man with the advantage as he lands a big powerslam on Shamrock. Henry locks Shamrock in a bear hug and it's kind of adorable.


Shamrock hits Henry's face a few times to break out of it, but Henry locks it back in. Again Shamrock breaks out of i t, runs against the ropes and sunset flips over Henry. Shamrock can't roll Henry up into a cover, however, and Henry jumps on Shamrock's stomach. Henry locks Shamrock into a bearhug again. Shamrock breaks out and hits Henry five times with elbows and clotheslines, just trying anything to drop this beast of a human. None of that works. Shamrock finally takes him down with a hurricanrana. Henry rolls out of the ring and while he's standing there, Vader runs out and rams into Henry.


Henry gets into the ring and Shamrock connects with a belly-to-belly suplex. Shamrock covers and he will advance to face the winner of the Jeff Jarrett/Marc Mero match.

After the match, Kevin Kelly grabs Shamrock for a quick word about King of the Ring this Sunday.
Shamrock: "That's right, Sunday. I didn't come this far to quit now. And there's only one more hill to climb and I'm gonna be on top when it's all said and done.
Few things about that. Does Shamrock not want to win the King of the Ring tournament? He knows to win it he has to win two matches, correct? Anyway, he's also missing a front tooth.


Hey, ya'll, Edge is here tonight to make his much-hyped debut. We've seen his promos for like the last six weeks, so it's nice to know those are done now. Here's our first glimpse of Edge.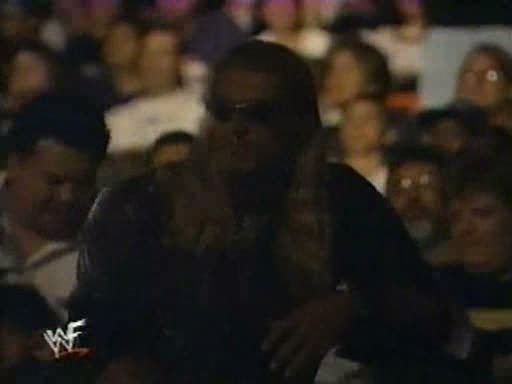 Dustin Runnels vs. X-Pac (with Chyna)

X-Pac uses his quickness and agility to jump out to an early lead in this one, forcing Runnels to slide out of the ring to regain his composure. X-Pac runs and kicks through t he bottom two ropes, sending his boot into the side of Runnels' head.


Back in the ring, X-Pac whips Runnels into the corner and kicks him a few times. He goes for a bulldog, but Runnels catches X-Pac in the air and drops him balls-first onto the top rope. Runnels clotheslines X-Pac. Runnels goes for a flying body drop, X-Pac ducks and Runnels rolls out of the ring. With the ref not looking, Chyna runs and hits Runnels with an elbow to the chest. X-Pac hits an elbow drop off the ring apron and rolls Runnels back into the ring.

X-Pac puts Runnels in a sleeper hold, but Runnels punches his way out of it and throws Pac face-first into the ring. Runnels hits a suplex and covers, but X-Pac kicks out. Runnels throws X-Pac into the corner, he bounces off while Runnels runs to the ropes for a bulldog, and Chyna trips Runnels from outside the ring to break it up. The ref p oints at her with an angry face. Runnels stares at Chyna for a few seconds, turns and walks into a spinning heel kick by X-Pac, who covers for the win.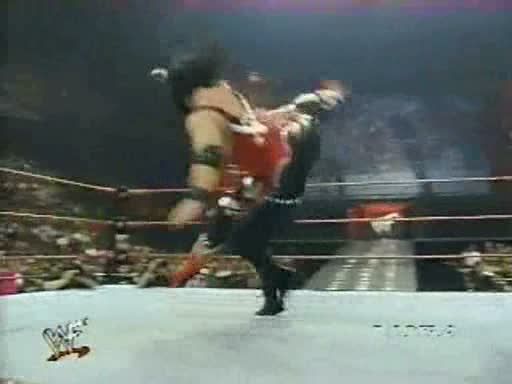 Runnels tries to shake X-Pac's hand after the match and X-Pac gives Runnels the "suck it" motion.

Via Satellite from his home, presumably in Hell, Paul Bearer joins us for an interview. JR asks about Kane's stipulations for his title match. To recap, if Kane loses, he will light himself on fire.
Bearer: "He'll do it. I know he'll do it. When he gets something in his mind and he says that he's going to do something, he's going to do it. But he's not gonna have to do it, because I'm gonna get off this sick bed and I&rsquo ;m gonna be at ringside next to my son where I've been his entire lifetime. Mr. McMahon said he's lived a life of torment. That's damn well true because he sure did, but he won't have to anymore. This Sunday, I'll be standing by his side when he's crowned WWF champion."
After a break, Jerry "The King" Lawler is in the ring and says he's had some issues with an idiot named Al Snow in recent weeks. Lawler says he has something for Snow, who he knows is here tonight because he got word that Snow was backstage breaking into a cleaning lady's closet room to steal her clothes. King invites him to the ring.


King says he can get Snow that meeting with McMahon Snow has been asking for if Snow returns King's crown. Also, for some reason while this is going on, the show cuts to Bearer's house , where's he watching Raw on TV and eating something. It makes no sense and perfect sense. I'd watch an entire show of Bearer watching the show and eating from his living room.


They make the trade and Lawler's paper isn't a meeting with McMahon, it's a contract. Snow will get his meeting with McMahon if he beats Brian Christopher and Scott Taylor in a tag match at King of the Ring. Oh, and Snow's partner is Head.

At first, Snow thought he had to lose the tag match for the meeting, and says if McMahon loves to see him lose, he'll get beat right now. So he drops to the mat and says to get it over with.


King calls out Christopher and Taylor, or Too Much as he calls them, to the ring for the match. They run into the ring, Sn ow jumps up and hits both guys with Head. He runs to JR and tells him to tell McMahon Snow will fight in his match at King of the Ring because Head doesn't lay down for anybody.

Marc Mero (with Jacqueline) vs. Jeff Jarrett (with Tennessee Lee) (King of the Ring quarterfinal match)

A loud Sable chant breaks out and Mero jumps out of the ring to cover Jacqueline's ears. The ref orders Mero back into the ring and this one finally starts. Mero lands a big powerbomb early in this one. Mero climbs to the top ropes and hits a moonsault on a standing Jarrett.


Mero runs at Jarrett, who catches and flips him awkwardly. Mero's left leg bends at a weird angle against the top rope and he grabs his left knee. Mero has a slight limp, but he's competing. Three times Mero hits a rollup cover on Jarrett, but all times Jarrett kicks out. Jarr ett runs against the ropes and Jacqueline trips him up. Tennessee Lee runs after her, so the ref jumps out of the ring to stop him from hitting Jacqueline, Um, I don't think anyone ever did that for Sable or Sunny. Racist much?


Anyway, in the ring Mero hits Jarrett with a low blow from behind and the TKO. Mero covers, but the ref is still out of the ring keeping Lee and Jacqueline apart. Mero gets off Jarrett to grab the ref's attention and Sable walks out to a huge ovation. Sable walks partly down the ramp and Mero turns to glare at her. He turns around and walks into a DDT. Jarrett covers for the win, earning him a trip to the semifinal against Shamrock.

By the way, that hell in a cell is still hanging over the ring and no one knows why. Well, actually someone must. Just, we don't.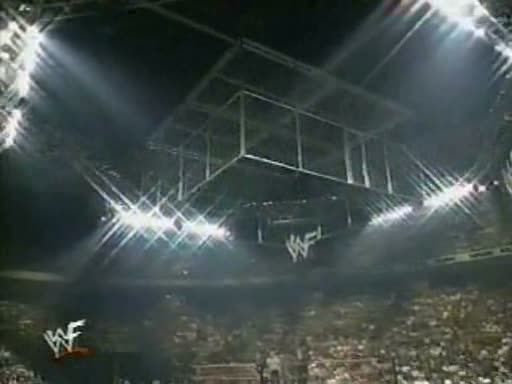 The tag team champs, the New Age Outlaws, make their way to the ring. They have solo matches tonight, but it's not clear just yet who is up first. Also, Lawler has joined the broadcast team replacing Michael Cole. It's Road Dogg, who is out to face Kane, which means Bearer is still at home watching.


Road Dogg Jesse James (with Bad Ass Billy Gunn) vs. Kane

A ref tells Gunn he has to leave ringside.

Kane dominates the first few minutes of this one. He backs Dogg into a corner, punches him a few times and chokes him. Dogg lands a few kicks to Kane's head, but Kane barely moves. Dogg does his dancing jabs and clotheslines Kane over the top ropes, and still Kane remains on his feet. He gets back in the ring and hits a huge flying clothesline.


Kane gets ready for a chokeslam, but Dogg connects with a low blow. Kane drops the hold, Dogg tries to run away and Kane grabs him by the hair, pulls him in and hits the chokeslam. Kane connects with a tombstone piledriver and covers for the win.

The show cuts back to Bearer's house and JR asks him about his health. Bearer says he's improving slowly, but he has to be there Sunday for his son. Bearer also says that last week Undertaker did what he did because Undertaker planned on attacking Austin and Bearer knew, so Undertaker had to keep Bearer quiet. While he says that, the lights in his house flicker a bit and Bearer, Undertaker's former manager for years, has no reaction. He just keeps talking as if everything is fine.

A woman screams and Undertaker is in Paul Bearer's living room! He says he hasn't forgotten where Bearer lives. Underta ker walks over to Bearer, who is sitting on his couch, and just unloads a series of punches on him.


Undertaker throws Bearer to the ground and tosses a huge chest on the ground as well. Undertaker knocks over a lamp, so it's hard to see what's going on. Undertaker lifts up something heavy and throws it against the wall and the feed cuts out.

It's time for the debut of Edge, who comes through the crowd. JR says all they know about Edge is he's some sort of "tortured soul," so there you have it.

Edge vs. Jose Estrada

Jose attacks as soon as Edge slides in the ring. Edge drops Jose quickly and punches him in the head a bunch. Edge dropkicks Jose out of the ring and yells at the sky. Lawler says you can tell Edge is tortured because he's always yelling at the sky and is always angry.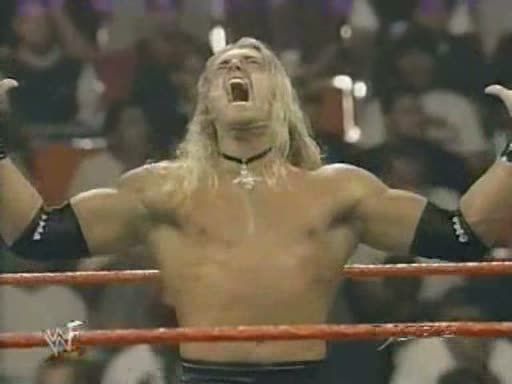 Edge flips over the top rope and lands on top of Jose, dropping Jose to the floor. Edge gets back in the ring and the ref counts out Jose. Edge looks disappointed and leaves through the crowd. A bunch of WWF officials check on Jose, who is still down. A reply shows that Edge's right leg hit Jose square on the top of head, possibly injuring his neck. Jose seems to have some movement in his fingers and legs, so he's just milking this injury for screentime at this point.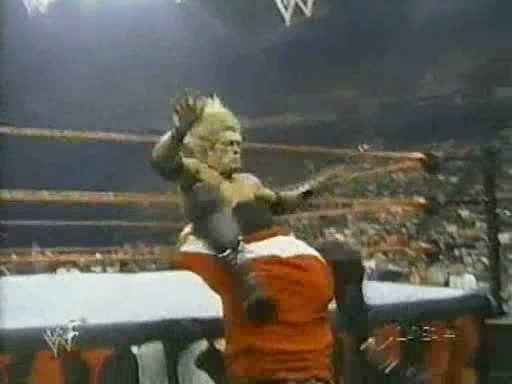 Backstage, Kane is flipping out!


There are some amazing things going on. Kane turns over a table and punches a locker a few times. That's cool. Mankind is back there yelling " Kane!" over and over to calm him down, which is great. Kane has that stupid voice box up to his throat and he's yelling "Ahhh!" and that's fucking amazing. No other way around it. It just sounds like he's using an electric razor.


Hmm, looks like Jose is really milking this "injury" thing.


Dan Severn vs. Owen Hart (King of the Ring quarterfinal match)

These two trade blows for a bit and Owen locks Severn in a sleeper hold on the mat to slow things down. Severn reverses and Irish Whip and Owen bounces off the turnbuckle into a scoop slam. Owen drops Severn, hops out of the ring and takes JR's chair. He slides it into the ring, where Severn picks it up and cocks it back, but the ref stands in his way. Owen stands outside the ring while the ref tries to break it up. Owen's back is to the ramp (UH OH!). X-Pac runs down the ramp, clocks the back of Owen's head with a chair and rolls him into the ring.


Severn puts Own in a submission hold, and Owen either gives up or is dead. Who knows what the ref calls it, but either way, Severn is in the semifinals.

The rest of the Nation runs out to check on Owen, and after a commercial break, the Rock calls out D-X. He tells them to come to the ring and fight right now. D-X's theme starts and they walk out, but about 10 WWF officials run out and stop them from getting to the ring.


At the top of the ramp, a few D-X dudes tell the Nation to suck it and the Rock is utterly appalled.
< p>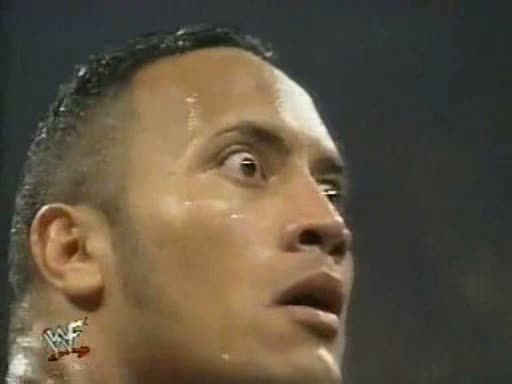 Triple H (with Chyna) vs. The Rock (King of the Ring quarterfinal match)
JR says no one has ever been King of the Ring twice, and Triple H is the reigning champ, so hey, that could still happen. These two are pretty evenly matched and they're both the leaders of their respective factions, both champions of titles no one cares about right now (Rock is Intercontinental champ and Helmsley is European champ). Rock DDTs Triple H and gives Chyna the "suck it" motion. She has no reaction.
Rock is in control of this one as he drops Helmsley in the corner and chokes him for a few seconds. Triple H gets up and fights back, dropping Rock with a few punches to the head and a knee to the face. Helmsley clotheslines Rock and Rock rolls out of the ring. Helmsley follows him out there and tries to ram Rock's head into the steel steps. Rock p laces his hands on the steps first to stop himself, elbows Helmsley in the stomach and bashes his face into the steps.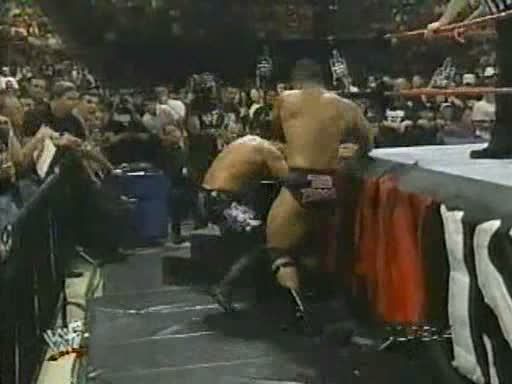 Rock mocks Helmsley from in the ring by doing the "suck it" taunt. While he's doing that, Chyna slides in the ring behind him.


Chyna turns Rock around, kicks him in the midsection and delivers the most powerful DDT Rock has ever felt, apparently.


Helmsley slides in the ring and covers, but Rock breaks out of it right before the ref counts to three. Triple H puts Rock in a sleeper hold. Rock frees himself and counters with a sleeper of his own. Chyna grabs the European belt and just holds it at ringside. Helsmley breaks out of the hold and whips Rock against the ropes. Helsmley drops to the mat and Rock jumps over him heading toward the side of the ring where Chyna has now stood on the apron ready to hit him with the belt. Rock, however, stops running.


Rock chases her off the ring apron and points at her along with the ref. Rock turns around, Triple H kicks him in the stomach and sets him up for the Pedigree. Rock low blows Helmsley and hits a fisherman suplex into a cover for the win.

D-X runs out and attacks Rock. A few seconds later, the Nation runs out and we've got a brawl.


A bunch of WWF officials run out to break things up. It does not go so well at first as these two groups really hate each other.

Anyway, the King of the Ring final four is set.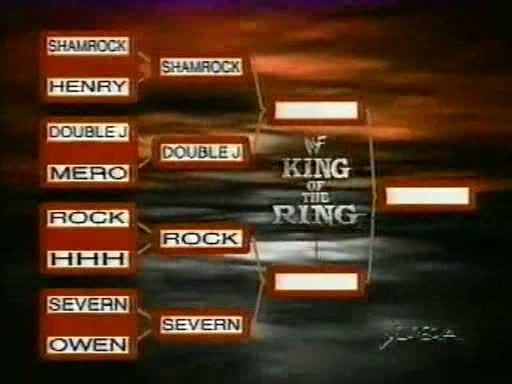 Backstage, Kane is sitting in the locker room swaying back and forth while yelling "Aaahhh" into his voice box and Mankind consoles him. Mankind says he'll make sure "Uncle Paul" is okay. Kane's swaying is a very Mankind thing to do. He's learning a lot from his cousin.


After a commercial break, Mankind is sitting in the ring rocking back and forth (called it!) before his singles match against Bad Ass Billy Gunn. He has a microphone. As soon as he starts talking, the hell in a cell lowers.
Mankind: "I have always enjoyed studying history and when I was a young boy, I had a favorite picture that hung on my bed of old men gathered on the hallow fields of Gettsyburg shaking hands. North ern men and southern men alike shaking hands on the very field where 50 years earlier they had shed each other's blood, and it stood to me as a shining example of the better angels of our nature, of the power of forgiveness and the ability of time to heal all wounds. And, Undertaker, when I think about our history, I couldn't help but believe it would end up the same way, gathering together years later in the same hallowed halls where we did battle to reminisce in the boiler room of Cleveland, in Madison Square Garden. And then you went and attacked my Uncle Paul, and now I've got a completely new vision. It is of me with my last act on this earth urinating on your grave you cowardly son of a bitch! I never thought the word coward could apply to you, but what other choice do I have. Uncle Paul is many, many things. He is a warm man, he is a loving father, but he is not a wrestler. He is not a fighter. He was defenseless and you attacked him! And we have every right i n the world to arrest you and put you behind bars, but oh no, no. You see, this is a family matter. And I'm going to put you behind these bars because blood is thicker than water. And if that's not enough, I can guarantee that Mankind will have a surprise for everyone that you will not soon forget. So, Kane, I ask you to listen close because all is not lost, and when it's all said and done, Kane, you will have Steve Austin's championship. I will have my vengeance and Uncle Paul will have the Undertaker's soul. Have a nice day!
The cell starts rising back up to the ceiling. JR has no idea what's going on.

Mankind vs. Bad Ass Billy Gunn (with Chyna)

Mankind attacks as soon as Gunn walks in the ring. He clotheslines Gunn and both of them go flying out of the ring. Chyna runs around to them, jumps on M ankind and punches him in the head repeatedly.


She brings him to the mat and the ref is letting this go on. He kicks Chyna away from ringside. Mankind clotheslines Gunn and rams his head into the steel steps. Gunn reverses a whip and throws Mankind into the steel steps. Gunn lifts Mankind up and drops him face-first onto the crowd barrier.

Mankind hits an elbow drop off the ring apron and lifts up the top portion of the steel steps. He walks toward Gunn, who dropkicks the steps into Mankind's head.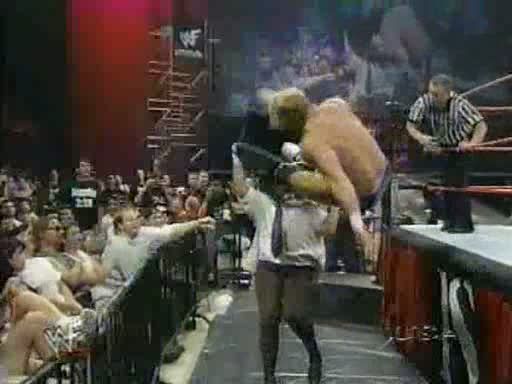 Back in the ring, Gunn goes for a piledriver, but Mankind counters by taking Gunn's legs out from under him. Mankind catapults Gunn into the corner and puts him in a Mandible Claw for the win.


Mankind immediately gets up and runs backstage. He runs through the halls yelling to Kane that he's back. Kane isn't in the locker room.

Sable walks out to the ring and grabs a microphone. She introduces WWF Champion Stone Cold Steve Austin. JR says Sable has a job with Titan Sports, the WWF's parent company, and that it looks like she's going to conduct the interview. Austin walks out and grabs the mic from Sable.
Austin: "I know you're not out here by yourself just for no reason, there's gotta be something going on, and I'm gonna tell ya right now what I want you do. And I don't know if you've ever done this before, but I want you to go right back there [points up the ramp] and give Vince McMahon a message. What you do is you take your little finger and you stick that one up just like that.
Sable laughs and leaves the ring.
Austin: "To Kane I say this, I accept your little stipulations on your match. I'll accept any kind of match you wanna throw at Stone Cold Steve Austin because I've bled before, I ain't afraid to bleed again. But when you put this little son of a bitch on the line [holds up WWF belt], it means that ass belongs to Stone Cold Steve Austin. Let me tell you something, you say that if you don't win the WWF title, you'll set yourself on fire. I'll tell ya something right now, if you're dumb enough to set your ass on fire in very ring, you can bet your bottom dollar that Stone Cold Steve Austin is going to bring all the marshmallows, all the hot dogs and all the beer. It don't make a damn to me. You can be the human campfire and I'll sit down and watch ya burn all day long. And if ya start to go out, you ca n rest assured that old Stone Cold will be there to throw another log on the fire."
As soon as Austin says "fire," a bunch of pyro explodes at the top of the ramp and Kane walks out. Kane raises his arms, but instead of fire shooting out of the ring posts, when he drops them a bunch of blood falls into the ring onto Austin!


Austin's been Carrie'd! Austin's been Carrie'd!


He looks pissed!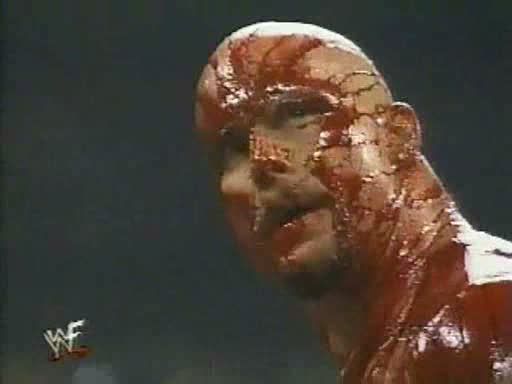 Kane: "Austin, this Sunday the blood on you will be for real."
Kane lifts his arms, drops them again and this time fire shoots up out of the ring posts.


The show ends on a closeup of Austin's angry face and he's muttering something to himself.
Written by Adam Littman with help from David (Wm.) Murray
Vince McMahon: "Kane, this Sunday challenges you, Austin, to a match that's never been held before here in the World Wrestling Federation. No, never in history. A match in which there's no such thing as a pinfall, there's no such thing as a submission. As far as a countout is concerned, that doesn't exist either. A disqualification won't even count. No, Kane challenges you, Austin, to a match in which clearly the winner will be the man who draws first blood on his opponent. That's right, Austin, a first blood match. And, Austin, how confident are you [a loud "Austin" chant starts] yeah, that's alright. Well then, how confident is Stone Cold Steve Austin that's he's gonna retain his WWF championship, huh, how confident is Austin? I'll tell you how confident Kane is. Kane is so confident that he will offer in writing a special provision in the contract that states the following. Kane, if you would speak publicly for the first time, what does the contract further state?
Is this the week where Kane actually speaks? Does Kane break his 20-year silence on this week's Raw?
Fuck yeah he does. What does he sound like? Does he use slang? Does he talk exactly like Snoop Dogg? Find out tomorrow on our Raw recap. Also, the tag champs split up for a pair of singles match, with Road Dogg Jesse James taking on a chatty Kane and Bad Ass Billy Gunn squaring off against Mankind. Plus, we've got the four first round King of the Ring matchups, which will give us the final four competitors for this year's competition as we prepare for King of the Ring this Sunday.
Written by Adam Littman
You know that lady who's in the Guinness Book of Records for making her eyes bug out of her head? McMahon's got beef.
This was a bad day for Val Venis.
The most intense Irish whip of all time!!!
How many jokes about people getting head are we going to have to make?
Can you imagine a more surreal moment than being this camera guy?
I guess pro wrestling camera guys' lives are full of surreal moments.
Professor Gif, out.
This one opens up asking of "the destruction of Stone Cold Steve Austin" from last week: "who orchestrated the chaos?" And right after that, it asks why there's a huge steel 'Hell in a Cell"-style cage suspended above the ring. Guys, you've been given programs! You should know the answer to at least the second one!
After the theme song, the show opens up for realzies, Jim Ross and Michael Cole calling the action out of San Antonio, Texas. First to the ring this evening is … Sable! I guess after a couple of weeks of being "kicked out of the WWF forever," she realized she had triple-D's and therefore didn't have to answer to anyone.
She takes the mic and says it's good to be back. She introduces "the person responsible for [her] return to the World Wrestling Federation … Mr. Vince McMahon!"
Okay, this is insane. I wouldn't have thought there would be anything to detract from a pro-wrestling audience's love of huge tits, but it seems as though their hatred of Vince McMahon has overpowered their boners. The crowd roars in disapproval of McMahon as he walks down the ramp to the ring.
He takes the mic, and an Austin chant immediately breaks out, causing McMahon to momentarily mention that "he got his" on last week's episode.
McMahon: "In an effort to clear up this alleged conspiracy theory concerning Vince McMahon, Sable, I wonder if you would be so kind as to read this prepared statement for me."
Sable does not seem confident that she can do this.
Sable: "I, Vince McMahon, the humanitarian of the year, resent any and all accusations that I, last week, in my finest hour, would stoop so low as to use legitimate charitable organizations to further my personal agenda against Stone Cold Steve Austin. I hereby publicly disavow any reference or knowledge of the willful and heinous attack perpetrated on the current WWF Champion one week ago. I remain steadfast in my resolve to be a caring, generous, and even jovial WWF owner, and to furthermore bring the parties responsible for last week's attack on Stone Cold to justice. Thank you for your kindness and understanding, and I hope you enjoy the rest of the show."
And with that, McMahon thanks Sable for reading that by kissing her on the cheek. The audience is not happy with that.
JR isn't convinced. The crowd is mostly still excited that Sable is back. McMahon's about to leave the ring, and then glass shatters, and the crowd explodes. Austin walks down to the ring, spouting who knows what kind of obscenity as he stomps over.
He takes the mic – and Sable – away from McMahon, and out of the ring. She walks up the ramp, and Austin stays.
Austin: "I just wanna let you know that while she was readin' that buncha crap that you wrote, I threw up about six times backstage! What yer fixin' to get right now, because I'm a little tired of all yer chicken-shit faces you been doi n' ta me, I'm fixin' to come up there and I'm gonna put this foot in yer ass, and there ain't nothin' you can do about it!"
Austin walks up the steps into the ring, and McMahon tries to tell him to stop. He slides out of the ring and begs for Austin to "listen to reason and don't react in a physical violent way."
Austin: "If you want me to react in a physical and violent way, gimme a hell yeah!"
Audience: "Hell yeah!"
Austin takes off after McMahon, who runs away around the ring, continuing to ask him to listen to reason.
McMahon: "The Undertaker!"
Austin pauses for a moment.
McMahon: "The Undertaker. It was the Undertaker. I swear! I swear on my grandmother's kittens! I know that this is preposterous, but hear me out. Please, just hear me out this once! Who was it that challenged you two weeks ago? Who was it that walked into the ring and said 'I want your WWF Championship?' Who was it?"
Austin gets into the ring with McMahon.
McMahon: "It was the Undertaker! That's who it was! It was the Undertaker! Stone Cold, that's your WWF Championship, not the Undertaker's! I know this is far-fetched but hear me out! Last week, the Undertaker knew what he was doin'! Undertaker, he knew I was gonna call the cops on him! I had to, think about it! Because when the Undertaker came down and he drove superstar after superstar into the canvas, he knew I'd call the cops. And you know what? I fell for it, you fell for it, and everybody else did too! Because think, he's surrounded himself with those cops just so he wouldn't have to come down for the save! I know it sounds far-fetched, but that's what happened! I couldn't believe it myself! Just remember one thing: the Undertaker is from the dark side, Stone Cold! He's from the dark side, and in my book, the Undertaker may as well be the devil himself! And he wants–"
To tell us himself what he wants! The Undertaker's bell rings, and he walks out to the ring! Austin and Undertaker stand toe to toe and then Undertaker takes the mic.
Undertaker: "Yeah, it's true. I came out here and I challenged you for the World Wrestling Federation title. But I did it like a man! I came out here in front of the whole world, and I asked what's rightfully mine: a title shot. And the way I did it, I did it with respect for you and where you brought yourself. Now I may be old-school, but I still respect what that world title stands for! So no matter how entertaining or [not at all] plausible McMahon's conspiracy theory is, you know and I know it's a damn lie!"
Undertaker: "McMahon, you make a living on manipulating the minds of those weaker than you. So there's somethin' I want you to know before I come down there and remove your head from the rest of your body! You will never ever be able to manipulate the mind of the Undertaker!"
And then the lights go out. The hits just keep on comin'! Here comes Kane, Paul Bearer, and a rather dapper-looking Mankind!
Paul Bearer: "Well well well! Congratulations to you, Undertaker! Congratulations for the Academy Award-winning performance that you put on last Monday night! For a few minutes there, I think Stone Cold Steve Austin actually believed you! When you were pointing your accusing finger at Mr. McMahon! But you know, and I know that Mr. McMahon didn't have a damn thing to do with the plan last week!"
Is everyone keeping track of which things "you know" and which things &ld quo;I know?" It's getting to be a long list.
Bearer: "As far-fetched as it may sound, the Undertaker and I hatched that plan, and how!"
Bearer: "And it worked pretty good, didn't it, Dead Man? You want more than the gold that Steve Austin is holding in his hand! You, just like Satan himself, want to take Steve Austin's very soul! You wanted to entrap Stone Cold in that cell hanging above your head! Tonight, you wanted that Undertaker! But I'm goin' as far as I can go with you. There's going to be entrapment tonight. Oh yes there is. But it's not gonna be the entrapment that you want! On behalf of my son, Kane, and on behalf of Mankind, I challenge both of you to a tag team match … tonight! … right in that very ring … right in that cell above your head!"
… What if Austin and Undertaker said no? Would they just throw the cage out?
The show takes a break after Bearer, Kane, and Mankind leave. The ring has cleared, and Vader makes his entrance for the first qualifying match of the night for the King of the Ring tournament. Rocky Maivia makes the next entrance, flanked by the Nation of Domination.
Commissioner Slaughter immediately steps out after them and gets the Nation to vacate the area, leaving Rock all alone.
Vader vs. the Rock (King of the Ring qualifying match)
They lock up, and the Rock opens up with some slaps which instantly pisses off Vader. He turns it around with some powerful shots and a splash into the corner. JR talks about how hot it is in Texas, which should make Vader too sleepy to compete for more than like three seconds. He lands a big splash off the second rope while Michael Cole talks about how he never goes to the gym. This is getting mean, guys.
Rock kicks out though, and lands a DDT for a two-count. He gets Vader in the corner and punches him off his feet and onto his ass. He goes for a scoop slam, but Vader is too fat for him and Rock falls backwards. He makes a second attempt and it works out better, giving Rock the opportunity to land a follow-up People's Elbow.
This makes Vader angry and he starts to fight back with some power moves. Rock shu ts him down with a clothesline over the top rope then distracts the referee, and guess who shows up immediately after the ref's back is turned?
Mark Henry! He beats the shit out of Vader in two seconds, then runs away. Rock lazily strolls out of the ring and starts slapping Vader in the face. He rolls the mastodon back into the ring, and gives him the Rock Bottom.
Vader is pinned, and Rock moves on in the King of the Ring tournament. He yells at the crowd on his way up the ramp.
JR mentions that Triple-H and X-Pac will face each other in the last match of the qualifying rounds, and intros a taped package of D-X's meeting on this topic called "Droppin' Knowledge."
Road Dogg is at the chalkboard first. He says basically nothing, but he does call Triple-H "Triple-Johnson," for some reason. I guess Helmsley has three dicks?
Uh, so … Road Dogg thinks it's gonna be a good match. That's about it.
Back at the ring, Darren "Puke" Drozdov puts his terrible facial hair on display. Tennessee Lee rolls out a red carpet for "Double J" Jeff Jarrett. Well … at least he's not riding a pony.
Darren Drozdov vs. Jeff Jarrett (with Tennessee Lee)
Jarrett attacks while Puke's back is turned. They go back and forth, and Marc Mero shows up walking down the ramp almost instantly, dragging Jacqueline behind him.
He's facing Jarrett in the next round of the King of the Ring tournament, but nobody thinks about that for a second. They just start chanting "Sable." Mero hits the announcers' table and starts whining about how Sable is back.
JR is like "I don't have any control over anything, bro," and Mero is like "I'm a whiny little bitch." Tennessee Lee starts talking to Jacqueline – probably something racist – and Mero whines about that too. Jacqueline just slaps the hillbilly in the face.
Double J gets out there with the ref to try and keep them separated, since Tennessee Lee apparently has no problem fighting a woman, and Mero uses it as an opportunity to punch Jarrett in the dick.
Puke rolls him back in the ring, covers him, and gets the three-count.
The show cuts backstage to Val Venis' dressing room door, and the sounds of women getting railed to pieces is heard coming (pun) out of there.
After a break, more "Droppin' Knowledge." Billy Gunn also says it's going to be "match of the year" when Triple-H and X-Pac fight. He wonders where Chyna is going to be in all this. No one answers.
Val Venis comes to the ring in his towel. In the ring waiting for him is Chainz. Venis grabs the mic and says hello to all the ladies. He says something about how "things come bigger in Texas," which doesn't really make sense. He turns it around to mean something about ejaculation, but does that mean he has a big load? Is that something to brag about, really? Seems like more of a liability than anything else. But let's stop talking about that.
Val Venis vs. Chainz
They lock up while JR wonders aloud who authorized the cage to be hung above the ring. He gets told less and less about the show every week. Cole suggests McMahon! JR says it's probably someone close to McMahon. Same thing, guys!
Val Venis takes command, w aving his bulge over Chainz' face.
JR: "I know I was watching Austin, those blue eyes of his, very very close and that face when Mr. McMahon was talking about the Undertaker being the point man of this conspiracy. I believe Austin believed some of Mr. McMahon's rhetoric!"
You know, I think he's right … wait, what? "Blue eyes?" "That face?" Do you have something you need to confess to us, JR? Or to Austin, more importantly?
Chainz and Venis continue going back and forth, Venis going up for the Money Shot – but Chainz hits the ropes and stops him, sending Valbowski landing on his prized boner! Chainz goes for a superplex, but Venis blocks it, tosses him off, and takes flight for the Money Shot, and this time he pulls it off! He hooks the leg and gets the pinfall!
Backstage, Kevin Kelly asks Undertaker if he can trust Stone Cold. He can't, because Austin's motto is Don't Trust Anybody! He thinks Austin can trust him though, because his intentions are clear: he wants Austin's belt.
After a break, more "Droppin' Knowledge." This time, Triple-H and X-Pac stand face to face, talking about how they're best buds. X-Pac mentions that he's finally "all healed up" which is the first we've heard about an injury – which would explain why he has done nothing since arriving at the WWF. They both are like "well, I guess I'll kick your ass," but you can tell they don't have any heart behind it.
Marc Mero comes ba ck to the ring with Jacqueline. Dustin Runnels – still wrestling for free, by the way – waits in the ring for him.
Marc Mero (with Jacqueline) vs. Dustin Runnels
Double J, Tennessee Lee, and Southern Justice immediately walk down the ramp to the announcers' table. Jarrett takes a headset while Mero and Runnels go at it. He takes a turn whining about Mero. JR complains that nobody told him Jarrett would be joining him at the table tonight. Is he getting fired? I mean, I get that nobody would tell him about the conspiracy stuff against Austin – that's how conspiracies work – but you would think they'd want him to be prepared for his own job, right?
Runnels clobbers Mero. Sable shows up, and Mero freaks out, giving Dustin the chance to land a surprise bulldog and get the cover a nd the three-count. Sable immediately turns around and leaves. Jacqueline was too busy yelling at Tennesee Lee and Southern Justice to notice her.
The show cuts to another "Droppin' Knowledge," even though we've already heard from everybody.
Everybody but Chyna! Who for some reason speaks! She tells them to just "go out there and wrestle like men." So they all get up and leave.
Back stage, Kevin Kelly interviews Dustin Runnels about his win.
Dustin: "The number one person I need to thank right now is my lord and savior, Jesus Christ."
… wait, what?
X-Pac makes his entrance solo, to a remixed version of Mike Tyson's theme song! Also, at some point the show did its reset, and Jerry "the King" Lawler has filled Michael Cole's seathole.
Triple-H, also alone, enters the ring area. They both do the crotch-chops in unison, and then Triple H goes up to the turnbuckle to greet the crowd. So X-Pac rolls him up.
WWF European Champion Triple-H vs. X-Pac (non-title King of the Ring qualifying match)
Helmsley kicks out, and after a moment of each man going sort of "what?" at each other, they start it up. X-Pac lands an enzuigiri, then keeps momentum with several fast strikes. Helmsley sends him to the mat and slows it down, while Chyna strolls down the ramp. She rolls X-Pac – laying on the outside like a wimp – back into the ring.
Triple-H clotheslines him immediately. It's followed up with an atomic drop and a vertical suplex, and then a knee drop into a cover. X-Pac gets slammed into the corner, but comes back out fighting, landing a spin kick to Helmsley's face, sending him rolling to the outside. Chyna helps him up, and tosses him back inside!
I guess she just wants to see them murder each other. X-Pac hits Hunter right away, and gets a near-fall. Helmsley picks it back up right after, and lands a few big moves. X-Pac gets sent outside again, and then, over the PA, the Rock starts yelling some shit about how everyone needs to pay attention to him right now!
Everyone does, and while they're doing that, Owen Hart flies over to X-Pac, and slams him, nuts first, onto the crowd barrier!
Rock tells Triple-H to check on his opponent, who has gotten some kind of knee injury from getting dropped on his nuts. He leaves the ring to make sure 'Pac is okay, and is immediately told to get back in the ring so they aren't both counted out. Triple-H wins by count-out, moving on in the tournament. He's cranky about it though.
D-X all check on X-Pac, and help him back to the locker room. The "field of eight" has been established.
< img height="384" src="http://img29.imageshack.us/img29/5821/vlcsnap2012061405h05m34.png" width="512">
Al Snow and "that head" walk out wearing "Avatar" masks, like we're supposed to know who that is. For those of you who aren't aware, it was a superhero character Al played in the WWF back in 1995 that involved him walking to the ring, and then putting on the mask.
King gets in the ring with a mic, and starts to ask what's up.
King: "Everybody knows you're Al Snow and this is the stupid head, so what are you doin' out here? … You are not gonna get any meetings with Vince McMahon tryin' to pull off these kinds of stunts, y'understand what I'm sayin' ?"

Snow: "Oh, I realize I'm not gonna get anything out of you. That's why I'm here to make two citizen's arrests tonight. … One for attempted murder for Vince McMahon. [To the Head] Look, I'm getting' to the point. [Back to King] That's right! Vince McMahon tried to kill my career with an Aldo Montoya-lookin' gimmick like that!"
King: "What's your other arrest?"

Snow: "I'm here to arrest your ass for lewd public conduct."

King: "What are you talkin' about?"

Snow: "Twice I've been out here, and all you've done is promise me I'd get to meet Vince, and all you've been doin' is slippin' me the sausage, givin' me the old ride on the baloney pony!" p>
Whoa! King's been trying to have sex with Al Snow?
King: "Hey, hey, hey! Listen, we're not gonna have another one of those Paul Bearer interviews! Let me straighten you out, right now! Let me tell you what your problem is. Your problem is not me, your problem is this stupid head right here! It is stupid, and you're stupid, and the only way you're gonna get a meeting with Vince McMahon is to get rid of this, and I'll show you how to do it right here, pal!"
King grabs the head, and goes to toss it into the crowd …
But Al Snow punches him in the face! Several times!
The referee tries to break it up, so Al kicks him in the gut and gives him the Snow Plow, his finishing move!
He celebrates by lifting the head up to the crowd, and King attacks from his backside. Al hits him in the nuts with the head! And then in the face!
A security guy tries to get Al out of there, but he gets hit in the face too. A second guard appears and also gets destroyed. Al runs out of the ring, clocks King one more time, and heads out through the crowd.
After a break, Michael Cole meets Austin backstage for an interview.
Austin: "Stone Cold Steve Austin doesn't trust anybody and that's the bottom line. That's just the way it is with me."

Cole: "Can the Undertaker trust Stone Cold Steve Austin?"

Austin: "He just said he wanted my belt so no, he can't trust Stone Cold Steve Austin, because he wants what's mine, and he ain't gonna get it!"
Mark Henry and Owen Hart walk to the ring, initially joined by the rest of the Nation, who are immediately sent to the backstage area by Commissioner Slaughter.
Dan "the Beast" Severn walks to the ring by himself. He injured D'Lo Brown last week, and has been getting in the Nation's shit all over the place. He'll also face Owen Hart in the next round of the King of the Ring Tournament. Ken Shamrock walks to the ring next, and meets Owen right away.
Mark Henry & Owen Hart vs. Dan "the Beast" Severn & Ken Shamrock
Shamrock and Severn have fought each other twice in UF C, so they're like, not into each other. Shamrock and Owen go right at it, Shamrock using some his speed attacks to take it to his opponent. Owen kicks him in the nuts while the announcers mention that there'll be the first ever "Tag Team Royal Rumble" to decide the number one contender for the Tag Team championship.
Mark Henry tags in and goes fucking nuts on Shamrock. Severn tags in and suplexes the shit out of Henry, then gets him in the arm bar submission!
Henry powers his way to his feet, and fights out, tagging Owen back in to get wrestled around by Severn. He goes again for the arm bar, but Henry breaks it, and Owen lands a spinning heel kick, then distracts the referee so Henry can choke the Beast.
They continue double -teaming the shit out of him while Shamrock whines at the ref, but it backfires when Severn slips out of Henry's clutches, and Owen missile dropkicks his own partner!
Shamrock tags in and cleans up! He powerslams Owen, then immediately gets put in the Sharpshooter. What an idiot. Lucky for him, D-Generation X runs down the ramp and fucking annihilates both members of the Nation. Mark Henry and Owen Hart win the match, but they don't really get to enjoy it.
Vader gets in on it too, attacking Mark Henry and then getting hit from behind when the rest of the Nation gets down there! It's just chaos at this point, referees attempting to keep everyone apart and eventually calming things down.
After a break, LOD 2000 enters, first combatants in the Tag Team Royal Rumble. JR says there'll be a new team every thirty seconds, so this is going to be confusing as fuck. The lights go out, and Kane's music begins! He enters, joined by Paul Bearer and Mankind, and the ring announcer informs us that Kane and Mankind are in the match!
JR is immediately confused, as they're obviously also supposed to go up against Austin and Undertaker later in the show. Something's up here …
The show takes a break.
Tag Team Royal Rumble
When it returns, the match has started. Hawk and Animal seem to be in control, and then the timer runs out, letting the New Midnight Express into the match. Kane is almost eliminated, but he hangs on. And then chokeslams Animal.
Midnight Express does the smart/rude thing and waits for Kane to lay Animal out before then get in the ring, and then start stomping on the guy as soon as that happens.
The Headbangers run into the ring and then just sort of stand there. King says they "march to a different kettle of fish." Whatever that means.
More brawling ensues, and in definitely less than thirty seconds, Skull and 8-Ball come down and go right for Legion of Doom. Another thirty seconds elapse, and Golga and Kurrgan, a couple of "human oddities" of Jackyl's arrive.
Bodacious Bob and Bombastic Bart (or whatever) get eliminated. The clock counts down again, and Too Much, for their first Raw appearance, fly in to the ring. That's Brian "Too Sexy" Christopher, and Scott "Too Hot" Taylor. Kane beats the shit out of Christopher. The clock runs down and Steve Blackman and Faarooq get in there. There are way too many bodies here.
Again, the clock runs down. It's Bradshaw and Taka Michinoku! Yeah! Bradshaw! Kill everything! DoA get eliminated, though nobody can see how it happened because this match is ridiculous.
Another team comes out. It's Terry Funk and 2 Cold Scorpio, the Funkers! Well, they're not going to win! Terry Funk eliminates Kurrgan (and Golga), and we see footage of Animal eliminating DoA, so that's how that happened.
The Headbangers chuck both guys from Too Much out of the ring, and then Kane eliminates the Headbangers. More violence, and then Steve Blackman and Animal both get their teams eliminated when Kane chucks 'em over the top rope.
It's down to the Funkers and Kane and Mankind! Funk and Mankind go under the ropes and fight on the outside, leaving Scorpio alone with Kane. He lands a really wimpy spin kick on Kane's wrist, and so Terry slides in the ring with a chair to even up the odds. He lays into Kane, and then the Funkers try to push him over.
Mankind gets in, knocks Terry over the top rope, and then hits him in the face with a chair!
But he still saves himself, the old weirdo! Kane gives Scorpio a tombstone piledriver, and then Mankind holds a chair up to Terry's face and Kane kicks it in.
Funk is eliminated. Mankind and Kane have won the match, making them the number one contenders for the WWF Tag Team Championship, and they still have to go up against Austin and Undertaker in Hell in the Cell next!
After a break, Paul Bearer gets on the mic while the cage is lowered around the ring.
Bearer: "Now that my team is the number one contender for the WWF titles, let the main event begin! Stone Cold Steve Austin! Undertaker! Will you accept my challenge?"
He hands the microphone to Mankind.
Mankind: "Listen up one, listen up all, to Mankind and Kane, and dear Un cle Paul! Because after tonight, oh the stories they'll tell, about how Stone Cold Steve Austin suddenly fell! But bad news for you Dead Man, no because our team's winning is not the end, it's just the beginning. Because look all around you! Steel bars and mesh! They'll break your bones, they'll rip at your flesh, because at King of the Ring, its my turn to play! I guarantee, Dead Man, it wont be a nice day!"

Bearer: "And now Paul Bearer's plan will unfold to the whole wide world! Yes, yes, yes! Will they accept our challenge? I don't think so! … It's pretty obvious, Texas, that your Stone Cold Steve Austin is nothin' but mouth, and no action!"
And then Austin's music explodes. He stomps over to the ring and climbs up the side to talk some shit to Mankind.
He wait s outside the door for his partner. Undertaker's music starts, but … where is the Undertaker? The lights go down as usual, but when they come back up, he's nowhere to be found! The music stops, and the ring announcer re-announces him, and the lights go out and the music goes up … but no. He's still not here. And Mankind has gotten tired of waiting!
So Austin slams the door in his face! Kane follows his partner out of the cage, and takes it to Austin! They fight on the ramp, and Paul Bearer locks himself inside the cage! Austin is taking a beating, Mankind joining in, and Paul Bearer looking on in delight. But …
What.
The.
Fuck.
Undertaker comes up through the ring and kicks Paul Bearer in the face, tw ice! Kane and Mankind try to get in, but it's locked! Kane tries to climb the cage, and Undertaker keeps going on his former manager!
Kane keeps trying to break through the cage roof, and Undertaker tries to break through the cage door … with Paul Bearer's face.
On the outside, Mankind and Austin keep each other busy, Austin slamming his Championship belt in Mankind's face. Paul Bearer looks like he's dead, and Mankind looks like he won't be far behind …
Austin climbs the cage to go after Kane! The show ends with them fighting up there!
Written by David (Wm.) Murray with help from Adam Littman
Everyone's all atwitter about the King of the Ring tournament, particularly this match up:
That's right, it's Triple H, the leader of D-Generation X, vs. X-Pac, the leaster of D-Generation X (get it? Least? Because he hasn't wrestled a single time since he came back to the WWF?). Of course, there's more interesting stuff too, like …
This cage, for instance. What's it doing there? Nobody knows! Well, nobody knows until about ten minutes into the show. Then everybody knows.
Well, yeah, it's kind of obvious. It's going to be used in a match. But to find out who's going to be inside it, you'll have to check back tomorrow on the Year in Rawview for our full coverage of this week's episode of Raw.
Written by David (Wm.) Murray